AIPMM certified training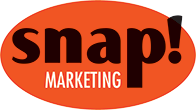 The AIPMM Certified Product Manager certification offered by Snap Marketing is based upon global best practices
The CPM course and exam is offered over three days and covers over 20 learning modules, quizzes, interactive exercises, study materials and a comprehensive practice exam to help you master the material and pass the worldwide-standard Certified Product Manager exam to earn the prestigious and highly-respected qualification.
I am interested in attending a Certified Product Manager course
Please complete all details below and we will contact you with future course dates:
Snap Marketing provides focused theoretical and practical training to individuals and teams to maximise understanding of the concepts, principles, processes and other critical insights linked to the entire product management lifecycle.
Who should attend the CPM course?
Individuals who wish to demonstrate competence in the principles and practices of industry-standard Product Management.
New and mid-level Product Managers who want to learn core skills and best practice product marketing management
Experienced Product Managers who want to refresh and strengthen their knowledge and increase their skill set
Individuals who wish to become Product Managers and learn about the profession, associated core skills and obtain the internationally recognised AIPMM CPM Certification
Organisations that choose to optimise their Product Management function and to provide in-house customised training to their teams